ANNOUNCEMENTS
Thông báo cập nhật ngày 05/01/2021:
- Tất cả các lớp IELTS nghỉ học để thi HK1 theo như đã thông báo và trở lại học bình thường từ ngày 9/1/2021.
- Chúc tất cả có một năm mới 2021 nhiều niềm vui, hạnh phúc và thành công. Happy New Year.
Trân trọng kính chào.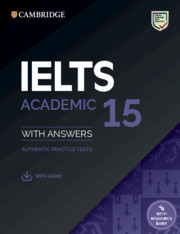 ---
Authentic examination papers from Cambridge Assessment English provide perfect practice because they are EXACTLY like the real test. IELTS 15 gives students the perfect opportunity to familiarise themselves with IELTS and practise examination techniques using authentic test material. You can choose either an edition containing four complete tests for the Academic module or for the General Training module. An introduction to these different modules is included in each book, together with an ...
---
Coronavirus is a respiratory syndrome from Wuhan, China (2019-nConV)...
---
On the night of 31 December and the morning of 1 January, people in many countries all over the world will celebrate the beginning of a new year. How will they celebrate and how did this tradition begin? LINK: Reading Sheets ...
---
Table of Contents CRIME AND PUNISHMENT MEDIA AND ADVERTISING THE ENVIRONMENT BUSINESS AND MONEY GOVERNMENT SPORT AND EXERCISE SPACE EXPLORATION LINK: EBOOK ...
---
Meaning: food that you need to grow and stay healthy ...
---
Meaning: a serious conversation between two people, usually close friends, in which they talk honestly about their feelings ...
---
Air pollution likely has detrimental effects on human neurodevelopment and cognitive function. ...
---
Please see the document below: ...
---
100% Trọng Tâm Ôn Kiến Thức - Luyện Kỹ Năng Tiếng Anh 12 giúp học sinh lớp 12 phá tan những khó khăn trong việc học và luyện đề môn Tiếng Anh với phương pháp làm bài ngắn gọn và cô đọng nhất. ...
---
The TOEFL iBT® Test Prep Planner offers an 8-week plan to prepare for the TOEFL® test. This comprehensive resource will help you understand how to prepare for the test more effectively and build the English skills you need to succeed in an acad...
BLENDED LEARNING | ENGLISH | Copyright 2017-2019
Website: https://blearning.edu.vn | Elearning: https://e.blearning.edu.vn
Email: e.blearning.edu.vn@gmail.com
The site does not contain any illegal materials or materials that violate copyright law - it contains only the following text information: views, opinions, comments, hyperlinks (URLs) to other publicly available sources on the Internet. The content on this site is collected from public resources that are freely available on the Internet, and is intended solely for educational purposes. None of the materials, the description of which is represented on our site, is physically located on our servers.
Total Visits : 364,073 Online: 13